Have you already made your New Year's resolution for achieving your Spanish learning 2021 goals?
1. Classic Learning: Take a Spanish Course [Online or Offline]
First thing first: you need to be realistic – plan your learning no more than 2/3 times a week for 50 minutes (like in school).
You can find a great choice of lessons online by cliccking on the following link:
Check the Lesson Library of SpanishPod101
As you can see you can choose your level on the top right, fron Absolute Beginner (Level 1) to Advanced (Level 5). Then you can choose Audio or Video lessons.
Hint: audio lessons are great when you are doing other tasks like driving, walking, running, etc.
Click here to Try SpanishPod101 Free Podcasts
2. Take Advantage Of Your Downtimes
Then create a reinforcement routine taking advantage of your downtimes.
"Downtimes" I said not "free times".
I bet you have several downtimes in your typical day: commuting, waiting in line, waiting at the restaurant, driving your car, etc.
There's a fantastic app you can download on your smartphone. Download it and take advantage of your downtimes, easily!
Learn Spanish anywhere with SpanishPod101 on your mobile device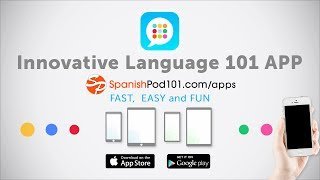 3. Take Advantage Of Your Free Time
Last but not least practice something you love in your free time – something that's really your passion – just practice it in Spanish.
This can be movies, songs, watching sports, chatting with people, etc., playing a game. Here are some great posts for learning Spanish doing something you love:
Reading & Listening to Poetry: 7 Famous Spanish Poems for Spanish Learning
Listening & Singing Romantic Spanish Songs – Learn Better Spanish Listening & Singing
Watching Fiction: Learning Spanish Words from a "Novela" (Soap Opera)
The Secret to Your Spanish Learning 2021 Resolution
The well known "secret" for learning a language is: Routine, routine, routine!
It's not studying a lot like so many people believe…
Remember: you can't study a language like any other school subject, you can learn a language at best only by using it,  living it.
And how can you live the language if you're not living in a country where that language is spoken?
It's so simple if you think a little bit:
By finding native speakers online.
There's a plethora of websites online that can help you for this. One for all: the Italki website! Here you can easily find native Spanish speakers that will be happy to share their time with you online – either free or for a few dollars for an hour…
Moreover on the Internet you can practice the Spanish language on Youtube, Facebook, Instagram, Pinterest, etc.
Another hint: probably in your town ther are many native Spanish speaker you can contact to have a conversation in Spanish!

Spanish Learning 2021 Routine